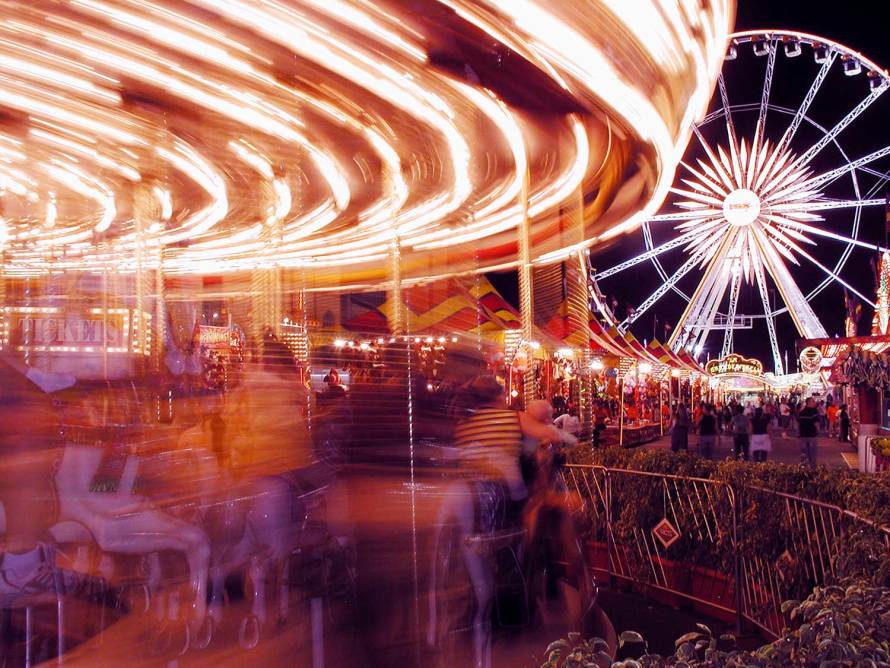 Signature Events
You're invited to Arizona's best events. When? Any day, all year long. You'll always find exciting events and unique experiences throughout the state. Whether you're jumping aboard the magical Polar Express train to visit Santa, stargazing Arizona's dark skies, enjoying a day in the park at a festival, or strutting your favorite cowboy boots at the world's oldest continuous rodeo, there's always something lively and entertaining going on in Arizona. - See more at http://www.visitarizona.com/events.
JANUARY 2017
7-8 Annual Gathering of the Gunfighters – Thousands of the Old West's worst desperadoes were housed in the Yuma Territorial Prison during its 33-year history, and the annual "Gathering of the Gunfighters" is a great time to visit the state park that preserves stone cell blocks, a guard tower and other structures dating back to the prison's 1876 birth. Outlaws, lawmen, cowboys, saloon gals, townsfolk and a cornucopia of disreputable characters converge in Yuma to relive the legend of the west. Old West reenactment groups from California, Nevada, New Mexico, Texas and Arizona compete for prizes during the Gathering, with gunfights and other stunts judged on story line and authenticity. Kids of all ages will enjoy seeing the costumed gunslingers face off amidst the rough stone walls of the prison, the only place tough enough to handle these wild and wooly gunfighters, outlaws and varmints.
Location: Yuma Territorial Prison State Historic Park, Yuma, AZ
Tel: 928-783-4771 web: www.azstateparks.com or http://gatheringofthegunfighters.com/
Future dates: January 20-21, 2018 (20th annual)
13-15 Havasu Balloon Festival and Fair – In addition to the sky being filled with beautiful balloons over the lake, additional activities offered include sky diver jumps and shows, a dog show, live music, a beer garden, a vintage/classic car show, carnival rides and events, kite displays, RC plane shows, balloon rides (tethered and un-tethered), bi-plane shows, arts and crafts and walk-in balloons. Watch as the giant balloons lightly touch the water and quickly ascend in the "splash and dash." In addition to the mass ascensions, there is a balloon night glow.
Location: Lake Havasu State Park, Windsor 4, 171 London Bridge Rd. Lake Havaus City 86403
Tel: 928-505-2440 or 928-486-7979 web: http://www.golakehavasu.com/events/details/64/ or http://havasuballoonfest.com/
Future dates: January 19-21, 2018 (8th Annual)
14-22 Barrett-Jackson Classic Car Auction - The largest, most prestigious antique/classic car auction in the world. Barrett-Jackson Auction Co. hosts this annual international car auction, offering one of the most exciting and diverse selections of classic and collectible automobiles in the world. One thousand cars cross the auction block including American and European classic, sports and racing cars, and buyers from around the world. The auction also features more than 350 vendors including one-of-a-kind collectibles and rare "automobilia."
Location: WestWorld of Scottsdale, 16601 N. Pima Road, Scottsdale 85260
Tel: 480-421-6694 or www.barrett-jackson.com or information@barrett-jackson.com
Future dates: January 13-21, 2018
18-22 Russo & Steele Collector Automobile Auction - The event kicks off with the Russo and Steele's Charity Gala, which features live entertainment, hosted bar and food, benefiting a local charity. Attendees can watch 500 vehicles roll across the auction block and join in on the excitement of bidding and buying. Russo and Steele Collector Automobiles offers the finest in European sports and American muscle cars, and the event is recognized as one of the "Big Three" Scottsdale car auctions by collectors and journalists world-wide.
Location: Salt River Fields, Scottsdale www.russoandsteele.com
Future dates: January tba, 2018
30-2/5 Waste Management Phoenix Open - The FBR Open is one of Arizona's largest spectator events and one of the PGA Tour's top events. This tournament attracts the PGA Tour's finest golfers to one of the oldest and most revered golf tournaments. It is sponsored by the Thunderbirds, the Special Events Committee of the Phoenix Metropolitan Chamber of Commerce. It is played on one of the country's most picturesque golf courses.
Location: Tournament Players Club of Scottsdale, 17020 N. Hayden Road, Scottsdale 85255
Tel: 602-870-0163 or http://wastemanagementphoenixopen.com
Attendance: 618,000
Future dates: January 29-February 4, 2018
FEBRUARY 2017
3-5 Annual Chocolate Affaire - An upscale festival of chocolate and romance, gourmet cuisine and beverage, horse-drawn carriage rides and national entertainment. In addition to tours of Arizona's own chocolatier, Cerreta Candy Company, more than three dozen chocolate purveyors grace picturesque Murphy Park to create a chocolate lover's delight!
Location: Murphy Park, 58th and Glendale Avenues, Glendale
Tel: 623-930-2299 or www.visitglendale.com
Future dates: February tba, 2018 (23rd Annual)
3-5 Cochise Cowboy Poetry & Music Gathering – The Gathering in Sierra Vista, Arizona continues the tradition of bringing this true Western expression of the – Cowboy Way – to today's audiences. Free Saturday programs include more than forty musicians, storytellers and musical groups who represent the best of the best from the Western states, many with national recognition. On Saturday, there are walk-in sessions in the afternoon for aspiring artists who want to demonstrate their poetry or music skills. Cochise County youth poetry contest winners perform throughout the three day event. Headline performances are on Friday and Saturday at 7:00 p.m. and a Sunday matinee at 1:00 p.m. Evening sessions & the Sunday matinee have an admission charge.
Location: Buena Performing Arts, Sierra Vista
Tel: 520-249-2511 or www.cowboypoets.com
Future dates: February 2-4, 2018 (26th Annual)
8-12 Tubac Festival of the Arts – Arizona's longest running art festival, this annual juried show features the work of 170 visiting artists, craft persons and musicians from around the country. Festival booths line the village streets, mixed among the 100 year-round shops, fine art galleries and working artists' studios. Horse-drawn trolleys shuttle visitors around the historic village, site of the first European settlement in Arizona. The entertainment lineup includes Azteca folk dancers, Mariachi music, Jazz music, art demonstrations, and more. Located south of Tucson at Exit 34 on I-19, Tubac is a haven for art, history and nature lovers.
Location: Tubac
Tel: 520-398-2704 or www.tubacaz.com
Future dates: February, 2018 (59th Annual
9-12 Tucson Gem & Mineral Show - This premier world-wide gem and mineral show is for amateur and professional collectors, artisans, and the public. Dealers as well as special exhibits by museums and individual collectors from all over the world, with emphasis on education in the earth science field, are presented. Lectures, seminars and children's programs open to all. This is the world's largest show featuring mineral, gem, jewelry, lapidary and book dealers.
Location: Tucson Convention Center
(Surrounding this show are about 20 other shows held just prior to or simultaneously, in the Tucson area, see http://www.tucsonshowguide.com/tsg/)
Tel: 520-322-5773 or 800-638-8350 or www.tgms.org
Future dates: February 8-11, 2018
10-12 Gold Rush Days – A celebration of Wickenburg's rich heritage. Festivities begin with a shoot-out on Frontier Street that kicks off a rootin'-tootin' western weekend of cowboys and garter girls. One of the largest parades in Arizona on Saturday morning, then a rodeo, gold panning and mucking and drilling contests, carnival, western dances, and arts & crafts.
Location: Wickenburg
Tel: 928-684-5479 or www.wickenburgchamber.com
Future dates: February 9-11, 2018 (70th annual)
11-12 World Championship Hoop Dance Contest - Top Native American dancers from the U.S. and Canada vie for the title of World Champion Hoop Dancer. There is no better place to see the fast-paced precision and grace of hoop dancing than at the Heard Museum's World Championship Hoop Dance Contest.
Location: Heard Museum, 2301 N. Central Ave, Phoenix 85004
Tel: 602-252-8840 or www.heard.org
Future dates: February 10-11, 2018
11-4/2 Arizona's Annual Renaissance Festival - The Arizona Renaissance Festival is one of the largest of the Renaissance events in the nation because it is really five Festivals all rolled into a giant, costumed fantasy village with: twelve stages of continuous live entertainment, a 30-acre outdoor circus, a medieval arts and crafts fair, a jousting tournament with three performances a day and a day-long feast.
Location: Gold Canyon
Tel: 520-463-2700 or www.royalfaires.com
Group discount: http://arizona.renfestinfo.com/ticket-information/group-discount-tickets/
Future dates: February 10-April 1, 2018 (30th annual)
16-19 Winter Blast Western Pyrotechnics Show – Each winter, the Western Pyrotechnic Association holds their annual convention in Lake Havasu City. Although the convention is attended by its members, the public benefits when the members debut many of the latest technological innovations in their field in a huge show open to the public Saturday. This free fireworks display rivals Fourth of July shows in major cities around the US. And the show gets better every year. New memories with family and friends will be created as the clear desert sky morphs into a spectacular kaleidoscope of colors. Visitors gather at Sara Park to view the spectacular display of fireworks over the Colorado River.
Location: Sara Park, Lake Havasu City
Tel: 800-242-8278 or https://golakehavasu.com/event/western-winter-blast-pyrotechnics-show/
Future dates: February 15-18, 2018 (29th annual)
16-26 Scottsdale Arabian Horse Show – Since 1955 this annual show has set the pace in the Arabian horse world. It has grown from 50 horses to nearly 2,200 of the world's most beautiful Arabians and Half-Arabians bringing top owners, trainers and breeders from around the world to ompete for a chance at winning more than $500,000 in prize money. The show is also a shopper's paradise with an assortment of 300 vendors and trade booths. Tempting international cuisine courts, exciting demonstrations and unique educational seminars compete for visitors' attention with the luxurious, exotically decorated stabling areas in which the horses are housed.
Location: WestWorld of Scottsdale, 16601 N. Pima Road, Scottsdale 85260
Tel: 480-515-1500 or www.scottsdaleshow.com
Future dates: February 15-25, 2018 (63rd annual); February 14-24, 2019 (64th annual)
18-26 International Film Festival & Workshop – Lovers of independent films will celebrate the best in cinematic art, amid unparalleled scenic beauty. The festival honors filmmakers motivated by passion for their art, not box office revenues. There are world premiers, gala parties, and stimulating conversation. Activities include more than 100 of the best films, a "Cast Party", awards lunch and small gatherings which give film lovers a chance to talk with others who share their passion.
Location: Sedona
Tel: 928-282-1177 or www.sedonafilmfestival.com
Future dates: February 24-March 4, 2018 (24th annual)
MARCH 2017
4-5 Heard Museum Guild Annual Indian Fair & Market - Experience one of the Southwest's largest and most prestigious events. The Indian Fair features more than 600 top American Indian artists. Visitors get firsthand access to artists and can view and purchase handmade, authentic work by the best sculptors, painters, jewelers, potters, bead workers, weavers, katsina doll carvers and basket artists. Fair weekend also includes music by recording artists, cultural dance performances, art demonstration and chefs demonstrating culinary uses of native ingredients.
Location: Heard Museum, 2301 N. Central Ave, Phoenix 85004
Tel: 602-252-8840 or www.heard.org
Admission: $$ Adult general admission is $20 and includes the festival and museum admission.
Future dates: March 3-4, 2018 (60th Annual)
5-15 Jesus the Christ Easter Pageant - The world's largest Easter pageant presents a drama, dance and musical story about the birth, life, death and resurrection of Jesus Christ. English and Spanish performances are given, check dates.
Location: Mesa Arizona Temple Grounds, 525 E. Main Street, Mesa 85204
Tel: 480-964-7164 or www.easterpageant.org
Attendance: nightly audience range between 5,000-13,000
Future dates: March 20-31, 2018 (excluding Sundays and Mondays) (88th annual)
10-12 Ostrich Festival - With a nod to Chandler's history, this festival dedicated to ostriches includes ostrich races, carnival, arts and crafts, marketplace, international food, national and regional entertainment, interactive kid's area, and a parade.
Location: Chandler
Group discount: please call 480-588-8497
Future dates: March tba, 2018 (30th annual)
31-4/2 Annual Tempe Spring Festival of the Arts –The Tempe Festival of the Arts consistently ranks among the Top 20 art festivals in the nation. More than 400 artist booths fill the Mill Avenue District, presenting unique hand-made artwork that offers visitors a distinctive shopping experience. Continuous entertainment on five stages, Arizona Wine Festival & a special area for children are also offered.
Location: Mill Avenue, Tempe
Tel: 480-921-2300 or www.tempefestivalofthearts.com
Future dates: March 23-25, 2018 (41st annual); March 29-31, 2019 (42nd annual); March 27-29, 2020 (43rd annual)
APRIL 2017
1-7 Desert Storm Poker Run and Shootout - See some of the fastest, most impressive boats to grace the waves. A world-class collection of the most prestigious performance boats from across the nation at speeds of more than 160 MPH. The air will be buzzing with the racers' helicopter teams flying above the boats right above the water. The Desert Storm Shootout features racers running a two mile course competing in 30 different classes, with more than 67 runs, and the speeds are breathtaking!
Location: Lake Havasu City
Tel: https://golakehavasu.com/event/desert-storm-poker-run-and-shootout/
Future dates: April tba, 2018 (20th annual)
8-9 Annual Culinary Festival – A celebration of the senses with the tastes, sights and sound of Scottsdale. The festival features food, drink and music from the Valley's most notable personalities in those fields including nationally renowned chefs. Events include a James Beard dinner, a Carnivale de Cuisine, Cooks and Corks, the Great Arizona Picnic, Le Tour Culinaire, Southwest Festival of Beers, Wine Country Brunch, Best of the Fest, tastings & Epicurean events.
Location: Scottsdale
Tel: Tel: 480-945-7193 or http://scottsdalefest.org/
Attendance: 35,000
Future dates: April, 2018 (40th annual)
26-29 La Frontera International Mariachi Conference – With more than a quarter of a century of success as one of the most influential mariachi and baile folklórico events in the world, this conference is a permanent fixture on the Tucson cultural calendar and beckons mariachi and baile folklorico aficionados from around the country. It is a celebration of folklorico and mariachi music starting with student workshops and culminating in the Fiesta de Garibaldi, an all day party in the park.
Location: Casino Del Sol Resort, Tucson
Tel: 520-838-3908 or via e-mail at lgomez@lafrontera.org web: www.tucsonmariachi.org
Future dates: April tba, 2018 (36th annual)
May 2017
27-28 Zuni Festival of Arts & Culture – Share in the artistry and cultural traditions of more than 50 Zuni artists. Buy traditional and contemporary art, enjoy insightful lectures and documentaries, and delight in musical and dance performances. In partnership with the A:shiwi A:wan Museum and Heritage Center.
Location: Museum of Northern Arizona, 3101 N. Ft. Valley Rd., Flagstaff 86001
Tel: 928-774-5213 or www.musnaz.org
Future dates: May tba, 2018 (28th annual)
JUNE 2017
12-18 Sheep is Life Celebration - Celebrating the central role of sheep and fiber arts in cultures from around the world. The Celebration is hosted by Navajo sheep herders and weavers to honor the central role of sheep and fiber arts in the spirituality, philosophy, and daily life of cultures throughout the world. Everyone is invited to participate. Bring tools, spindles, fibers, and creativity to share. Additional activities include workshops, classes, hands-on activities and presentations, sheep and wool shows, sales of sheep, wool, fiber, weaving materials and arts, shepherd training workshops, a Navajo-Churro sheep exchange, contemporary fiber arts sale, and a juried Navajo Rug show and sale.
Location: Dine' College, Tsaile
Tel: www.navajolifeway.org
Future dates: June tba, 2018 (22nd annual)
28-7/4 Annual Prescott Frontier Days®, Inc. World's Oldest Rodeo® - Prescott explodes with old western hospitality and charm during Frontier Days week! Enjoy "Everybody's Hometown" with our rich history and cowboy culture many have come to love. Rodeo festivities include eight thrilling rodeo performances, Arizona's largest rodeo parade, kiddie parade, arts & crafts show, rodeo & street dances and Fourth of July celebration.
Location: Prescott
Tel: 928-445-3103 or 866-407-6336 or www.worldsoldestrodeo.com
Future dates: June tba, 2018 (131st annual)
JULY 2017
1-2 Hopi Festival of Arts and Cultural - The Museum of Northern Arizona's Heritage Program is dedicated to honoring the cultural diversity of the magnificent Colorado Plateau. Meet Native artists, performers, ethnobotanists, and cultural interpreters to explore the rich heritage of northern Arizona and the Four Corners region through stories, dances, and songs. Events appeal to everyone--families, children, connoisseurs, and collectors of fine Native American and Hispanic art. The oldest Hopi show in the world, this festival celebrates the rich artistic culture and traditions from the Hopi mesas of northeastern Arizona. Enjoy the renowned Hopi handmade arts of katsina doll carving, pottery, painting, and silver overlay jewelry against a backdrop of storytelling, music, dancing, and steaming piki. Learn about the Hopi values of humility, cooperation, respect, balance, and earth stewardship. Nature lovers can take a hike with a Hopi medicine woman along the Museum's Rio de Flag Nature Trail to learn the many uses of regional plants.
Location: Museum of Northern Arizona, 3101 N. Ft. Valley Rd., Flagstaff 86001
Tel: 928-774-5213 or www.musnaz.org
Future dates: July tba, 2018 (85th annual)
29 Harvest Fest - August Fest commemorates an upcoming bountiful harvest from the vineyard. One of the biggest attractions of the day is the grape stomping. Festival guests are invited to jump into a barrel of grapes for creative crushing with bare feet, while a rousing round of applause from the crowd chooses the winner. Other events include a wine tasting, the tractor drawn vineyard tour, taste of the various crops of fresh wine grapes, a local band, and gourmet food to complement the wines.
Location: Sonoita Vineyards, Elgin
Tel: 520-455-5893 or www.sonoitavineyards.com
Future dates: July tba, 2018
AUGUST 2017
5-6 Navajo Festival of Arts and Culture - An authentic presentation of the Navajo "Beauty Way" philosophy of living in harmony is offered by more than 55 Navajo artists, storytellers, and cultural interpreters from many clans. Witness multi-generations of rug weavers working on traditional upright looms throughout the Museum. Diné Woven's presentation of rug weaving takes the audience on a journey from sheep shearing to weaving techniques and the meanings behind intricate rug designs. Enjoy hoop and traditional dancing, a retrospective fashion show, and ancient and modern Native music. Artists demonstrate jewelry, painting, beading, and pottery techniques. Cultural customs and ways families are using to keep traditions strong are discussed. Explore the tribe's intricate language with a Navajo linguist and come to understand many ancient legends and traditions. Hike with a Navajo ethnobotanist and learn the Native uses of local plant life.
Location: Museum of Northern Arizona, 3101 N. Ft. Valley Rd., Flagstaff 86001
Tel: 928-774-5213 or www.musnaz.org
Future dates: August, 2018 (69th annual)
10-12 Arizona Cowboy Poets Gathering - From all over the west, working cowboys who compose and recite and sing poetry about their lives and work gather for performances and sessions, old-time singing, song writing, cowboy yodeling, and traditional & contemporary cowboy poetry.
Location: Yavapai College Performance Hall, 1100 E. Sheldon Street, Prescott
Tel: 928-776-2000 or http://azcowboypoets.org/
Admission: Daytime sessions are free, evening shows collect an admission
Future dates: August, 2018 (31st annual)
18-19 World's Oldest Continuous Rodeo – August Doin's Rodeo - For more than 125 years, Payson, Arizona has been celebrating the history and tradition of Pro-Rodeo. It is still held the third weekend in August and according to the PRCA, which sanctions the event it is considered the country's Best Small Rodeo. Experience the exhilaration of rodeo, the sport of the Old West! Some of the world's greatest professional cowboys and cowgirls compete for cash and prizes totaling in excess of more than $50,000 in prize money. Fearless bull riders, burly steer wrestlers, gorgeous barrel racers, soaring bronc riders, specialty acts, and colorful clowns keep you entertained and shouting for more. There are four performances and the long weekend includes an old-fashioned parade and incorporates several days of "wild west" events.
Location: Payson
Tel: 928-474-4515 or www.paysonrimcountry.com
Admission: $$ tel: 928-474-9440
Future dates: August, 2018 (134th annual)
SEPTEMBER 2017
5-8 Rex Allen Days - The annual celebration honors the late Rex Allen, Willcox's own silver screen cowboy. Activities include a parade, a professional rodeo, cowboy dances and a county music concert. There will also be a Cowboy Music and Poetry Festival, comedy shows, tractor pulls, gunfights and showings of Rex Allen movies as well as a car show, turtle races, carnival and softball tournaments.
Location: Willcox
Tel: 520-384-2272 or 520-384-4583 or http://www.rexallendays.org/
Future dates: September tba, 2018 (67th annual)
5-10 Navajo Nation Fair - A camera will be number one on your list to capture all the color and excitement. The Navajo Nation Fair is similar to a County Fair in that it has a rodeo, a parade, concerts, dances, exhibits, competitions, amusement rides… all the elements that go into having a fair. On paper it would appear to be the same thing. But once you get there, you'll discover that's where the similarity ends. This is a county fair, Indian style!! As the largest Indian Fair in the country, the Navajo Nation Fair in Window Rock is the fair of choice for visitors. Opportunities abound for cultural experiences with the Contest Pow-Wow, Traditional Song & Dance and the Saturday favorite, the Night Performance: dances performed in the arena by various Indian tribes. Pageantry has its own flair with the Miss Navajo competition. Navajo Arts & Crafts, known for their beauty and quality, are abundant at fair time. This event provides a safe environment for visitors to be around thousands of Indians, from everyday non-stereotypical people attending a fair to those who are dressed in magnificent regalia participating in an activity they love.
Location: Window Rock
Tel: 928-871-6647or https://www.facebook.com/NavajoNationFair/
Future dates: September tba, 2018 (72nd annual)
29-30 SalsaFest – Arizona's Salsa Trail encompasses terrific food in the towns and communities within a 40 mile radius of Safford. The members of the Salsa Trail, which include a dozen Mexican restaurants, a tortilla factory and chili farms, celebrate each September with a salsa-making competition open to both professional and amateur chefs, a marketplace, salsa music, dance performances, food demonstrations, chili roasting, a kids' corner with piñatas and Chihuahua races, dog costume contest, and car show. There is also a Hot Air Balloon Glow on Friday evening and they fly overhead on Saturday morning.
Location: Safford Town Square
Tel: www.salsatrail.com
Future dates: September tba, 2018 (12th annual)
30-10/8 IJSBA World Finals - Competitors from more than 40 U.S. states and nearly 35 nations churn the waters to win a share of more than $25,000 in prizes at the world's largest and most prestigious personal watercraft race.
Location: Crazy Horse Campgrounds, 1534 Beachcomber Blvd. Lake Havasu City 86403
Tel: 928-453-3444 or https://golakehavasu.com/event/ijsba-world-finals/
Future dates: September tba, 2018 (37th annual)
OCTOBER 2017
20-22 Helldorado Days - What started out as the town's 50th anniversary celebration in 1929, has turned into its oldest tradition. Activities include reenactments, a parade on Sunday, fashion shows, a carnival, live music, beard contest and street entertainment,
Location: Tombstone
Tel: 520-457-3291 or www.tombstonehelldoradodays.com or http://www.tombstonechamber.com
Future dates: October tba, 2018 (88th annual)
21 Bisbee 1000 Stair Climb - This annual event can be a challenging competitive run or a leisurely explorative walk of Bisbee's more than 1000 stairs. Win prizes and help restore the historic steps while improving your own health. The Barco Ice Man, "the event within the event", involves carrying blocks of ice up 153 stairs in less than 30 seconds - fun to participate in or just to watch!
Location: Bisbee
Tel: 520-432-1585 or www.bisbee1000.com
Attendance: (limited to 1500 runners)
Future dates: October, 2018 (28th annual)
21-22 Celebraciónes de la Gente - The Museum of Northern Arizona comes to life for Dia de los Muertos or Day of the Dead. Transforming grief into celebration, this ritual pays homage to the lives of lost loved ones by inviting them back to enjoy their favorite music and foods, and to honor their contributions in life. Flagstaff families bring ofrendas (altars), from their homes to share in a courtyard exhibit. The festival includes performances such as Aztec fire dancing, storytelling, mariachis, ballet folklorico, and modern Latin music. Artists display exhibits of tinwork, straw mosaics, papél picado (paper art), and filigree jewelry.
Location: Museum of Northern Arizona, 3101 N. Ft. Valley Rd., Flagstaff 86001
Tel: 928-774-5213 or www.musnaz.org
Future dates: October tba, 2018 (15th annual)
NOVEMBER 2017
5 All Soul's Procession - A two-mile, human-powered procession that ends in the finalizing action of burning a large urn filled with the hopes, offerings and wishes for those who have passed. The event also includes installation art, altars, performers and creative artists. The All Souls Procession, and now the entire All Souls Weekend, is a celebration and mourning of the lives of our loved ones who have passed.
Location: Tucson
Tel: 520-770-1553 or 520-634-5004 or http://www.allsoulsprocession.org
Attendance: 150,000
Handicap accessible: yes
Future dates: November tba, 2018 (29th annual)
10-12 Bluegrass Festival & Fiddle Championship - Held the second full weekend in November for more than 25 years, this three day event has featured the Four Corners championship contests for fiddle, flat pick guitar, banjo and mandolin. It draws thousands of spectators from throughout the southwest.
Location: Bowman Rodeo Grounds, Wickenburg
Tel: 928-684-5479 or www.wickenburgchamber.com
Future dates: November, 2018 (39th annual)
November - January 2017
10-1/6 Polar Express – The classic children's book by Chris Van Allsburg, The Polar Express, comes to life when the Grand Canyon Railway train departs the Williams Depot for a journey through the dark and quiet wilderness for a special visit to the "North Pole." Enjoy hot chocolate and cookies while listening to the magical story. Watch the joy on the children's faces when the train arrives at the North Pole, where Santa Claus and his reindeer are waiting! Santa will board The Polar Express and hand each child their own special gift.
Location: Grand Canyon Railway, Williams
Tel: 800-843-8724 or www.thetrain.com
Admission: $$$$$
Future dates: November tba, 2018
DECEMBER 2017
1-3 Fall Festival of the Arts - One of Arizona's largest and oldest arts and fine crafts festivals happening every December in downtown Tempe. More than 500 national artists and craftspeople come from across the country to sell their artwork. Food vendors, musical entertainers and people watching, fill the streets.
Location: Downtown on Mill Avenue, Tempe
Tel: 480-967-4877 or www.tempefestivalofthearts.com
Admission: Free
9-10 Pueblo Grande Indian Market - Two hundred Native American artisans with handmade art ranging from jewelry, baskets, pottery, paintings, Kachina dolls, fetish carvings, weavings and sculptures will show their wares. Traditional and contemporary Native American music and performances are offered. While there, tour the centuries-old platform mound, ballcourt and replica homes of the ancient Hohokam culture and taste some traditional Native American foods.
Location: Pueblo Grande Museum and Archaeological Park, Phoenix
Tel: 602-495-0901 or http://www.pueblogrande.org/events/annual-pgma-indian-market/
Future dates: December tha, 2018 (42nd annual)
30 Fiesta Bowl – Prior to the football game are a variety of events including the Fiesta Bowl Parade, gathering approximately one-million spectators and participants. Whether it be golf, community events, parades, educational programs, formal galas or football games, families and friends have the opportunity to celebrate college football and all it entails.
Location: University of Phoenix Stadium, Glendale, AZ
Tel: web: www.fiestabowl.org
Future dates: December, 2018
Cactus Bowl – Chase Field. Hosting football teams from the Pac 12 and Big 12 Conference. $10-50, 8:15 pm,
Location: Tempe
Tel: 480-350-0911 or http://www.fiestabowl.org/
Future dates: February, 2018
We have several unique New Year's Eve count-downs:
31 FLAGSTAFF: New Year's Eve Pinecone Drop – Weatherford Hotel, a Flagstaff tradition, big countdown at 10 pm & 12 am, giant, LED-Lighted Pine Cone is lowered from the top of the Historic Weatherford Hotel, free, http://www.flagstaffarizona.org
31 PRESCOTT: Boot Drop – The Palace Restaurant & Saloon, a 6-foot illuminated cowboy boot will be lowered down a 40-foot flagpole to ring in the New Year, once at 10 pm for early birds and once at midnight for traditionalists, a DJ will spin tunes, food vendors, 8 pm – 1 am, 928-776-0234 or http://www.bootdrop.net/
31 SHOW LOW: Deuce of Clubs Drop – Festival Marketplace, entertainment, music and food and countdown to midnight, drop of a giant electrified Deuce of Clubs from a crane, giant fireworks show follows, 928-532-4140
This calendar has been produced to assist you in making travel arrangements. It is for information only and does not constitute a recommendation. Dates for events were correct at time of publication. Since dates are occasionally changed, please confirm them in advance.