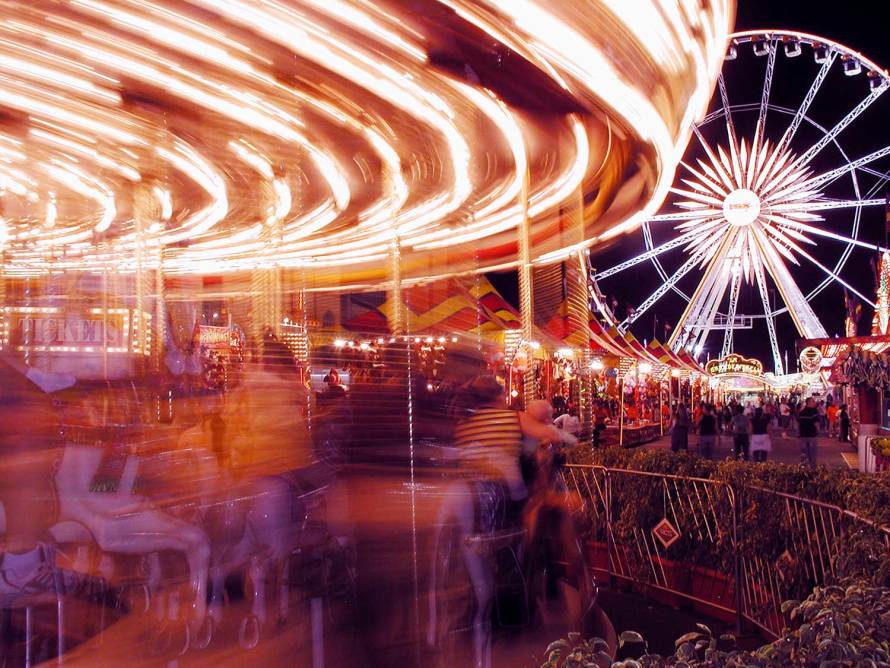 Signature Events
Throughout the year, Arizonans and visitors gather to celebrate Arizona's traditions and cultures. They meet to observe and participate, gather and collect, clap and cheer, ooh and ahh, run or ride, eat and drink and shop til they drop. These "signature" events represent only a portion of Arizona's celebrations. For a more complete list, see visitarizona.com/events.
JANUARY 2019
10-13 LAKE HAVASU CITY: Havasu Balloon Festival and Fair – It is a "Party in the Sky!" In addition to the sky filled with beautiful balloons over the lake, other activities offered include a pilot meet and greet, skydiver jumps and shows, dog shows, and live music and entertainment. Also, vintage/classic car show, carnival rides and events, kite displays, air shows, balloon rides (tethered and un-tethered), arts and crafts, an emergency vehicle display, walk-in balloons, mass ascensions, and balloon night glows. Tel: 928-505-2440 or https://golakehavasu.com/event/havasu-balloon-festival-fair/ or https://havasuballoonfest.com/ or hbffhelp@gmail.com
12-20 SCOTTSDALE: Barrett-Jackson Classic Car Auction – WestWorld of Scottsdale. The largest, most prestigious antique/classic car auction in the world. Barrett-Jackson Auction Co. hosts this annual international car auction, offering one of the most exciting and diverse selections of classic and collectible automobiles in the world. One thousand cars cross the auction block including American and European classic, sports, and racing cars, and buyers from around the world gather to bid on them. The auction also features more than 350 vendors including one-of-a-kind collectibles and rare "automobilia." Tel: 480-421-6694 or https://www.barrett-jackson.com/ or information@barrett-jackson.com
16-20 SCOTTSDALE: Russo & Steele Collector Automobile Auction - The event kicks off with the Russo and Steele's Charity Gala, which features live entertainment, hosted bar and food, benefiting a local charity. Attendees can watch more than 800 vehicles roll across the auction block and join in on the excitement of bidding and buying. Russo and Steele Collector Automobiles offers the finest in European sports cars, American muscle cars, Hot Rods, and Customs, and the event is recognized as "one of the major players" of Scottsdale car auctions by collectors and journalists worldwide. Tel: 602-252-2697 or https://russoandsteele.com/scottsdale/ or email: info@RussoandSteele.com
17-20 WILLCOX: Wings Over Willcox - Sandhill Crane Celebration – A celebration of birds, nature and culture, includes guided tours and field trips for bird watching, photography, geology, ranching, agriculture, history and more. See Sandhill cranes at the Willcox Playa. At Cochise Lake, see the waders. Free seminars, a crafts and trade show, live animal educational booths, workshops, banquet, silent auction and keynote speaker. Tel: 800-200-2272 or http://www.wingsoverwillcox.com/
19-20 PHOENIX: Rock 'n' Roll Arizona Marathon & 1/2 Marathon – The run begins in Phoenix and runs through Phoenix, Scottsdale & Tempe, on a fast, flat course. There are more than 70 live bands, 40 cheer squads, aid stations, and music at every mile. Additional events include the Rock 'n' Roll ArtWalk on the Thursday prior to the run and a Health and Fitness Expo on Friday and Saturday. Tel: 800-311-1255 or http://www.runrocknroll.com/arizona/ or email: rnraz@competitorgroup.com
28-2/3 SCOTTSDALE: Waste Management Phoenix Open - Tournament Players Club of Scottsdale. With more than 700,000 people in attendance, the FBR Open is one of Arizona's largest spectator events and one of the PGA Tour's top events. This tournament attracts the PGA Tour's finest golfers to one of the oldest and most revered golf tournaments. It is sponsored by the Thunderbirds, the Special Events Committee of the Phoenix Metropolitan Chamber of Commerce. It is played on one of the country's most picturesque golf courses. Tel: 602-870-0163 or https://wmphoenixopen.com/ or email: info@wmphoenixopen.com
FEBRUARY 2019
6-10 TUBAC: Tubac Festival of the Arts – The longest-running annual art gathering in the United States, this juried show features the work of approximately 200 visiting artists, craft persons and musicians from around the country. Festival booths line the village streets, mixed among the 100 year-round shops, fine art galleries and working artists' studios. Horse-drawn trolleys shuttle visitors around the historic village, the site of the first European settlement in Arizona. The entertainment lineup includes Azteca folk dancers, Mariachi music, Jazz music, art demonstrations, and more. Located south of Tucson at Exit 34 on I-19, Tubac is a haven for art, history and nature lovers. For more information, 520-398-2704 or http://tubacaz.com/ or email: assistance@tubacaz.com
9 GLENDALE: Chocolate Affaire - An upscale festival of chocolate and romance, gourmet cuisine and beverage, horse-drawn carriage rides and national entertainment. In addition to tours of Arizona's own chocolatier, Cerreta Candy Company, more than three dozen chocolate purveyors grace picturesque Murphy Park to create a chocolate lover's delight! Murphy Park is located in downtown Glendale. This event takes place annually in February. Tel: 623-930-2299 or https://www.visitglendale.com/
8-10 WICKENBURG: Gold Rush Days – This celebration of Wickenburg's rich heritage has been running for more than 70 years and has received recognition from the Library of Congress as one of America's Living Legacies. Festivities begin with a shoot-out on Frontier Street that kicks off a rootin'-tootin' western weekend of cowboys and garter girls. On Saturday morning, one of the largest parades in Arizona passes by. Cowboys from all over the country gather Saturday and Sunday afternoon to participate in the National Senior Pro Rodeo. Families enjoy a carnival, food booths, barbecue, classic car show, and artisan fair as well as unique mining contests, gold panning and other activities relating to the gold fever that once gripped the town. Music, dancing, a real old-fashioned melodrama, horses, floats and food – all part of Wickenburg's most action-packed weekend of the year. Tel: 928-684-5479 or http://www.wickenburgchamber.com/annual-events/ or https://outwickenburgway.com/ or email: events@wickenburgchamber.com
9 SIERRA VISTA: Cochise Cowboy Poetry & Music Gathering – The Gathering in Sierra Vista, Arizona continues the tradition of bringing this true Western expression of the 'Cowboy Way' to today's audiences. Free Saturday programs include musicians, storytellers and musical groups who represent the best of the best from the Western states, many with national recognition. Don't miss the Saturday night barn dance. Tel: 520-508-9359 or https://www.cowboypoets.com/
9-10 PHOENIX: World Championship Hoop Dance Contest – Heard Museum. Top Native American dancers from the U.S. and Canada vie for the title of World Champion Hoop Dancer. There is no better place to see the fast-paced precision and grace of hoop dancing than at the Heard Museum's World Championship Hoop Dance Contest. Tel: 602-252-8848 or https://heard.org/event/hoop/
9-3/31 GOLD CANYON: Arizona's Annual Renaissance Festival – The Arizona Renaissance Festival is one of the largest of the Renaissance events in the nation and has been going for more than 30 years. During that time it has matured into a medieval amusement park in a giant, costumed fantasy village with thirteen stages of continuous live entertainment, a 30-acre outdoor circus, a medieval arts and crafts fair with more than 200 artisans, a jousting tournament with three performances a day, and a feast. Tel: 520-463-2700 or http://arizona.renfestinfo.com/
13-17 LAKE HAVASU CITY: Winter Blast Western Pyrotechnics Show – For thirty years, the Western Pyrotechnic Association has held their annual convention in Lake Havasu City. Though the convention is attended by its members, the public benefits when the members debut many of the latest technological innovations in their field in a huge show open to the public on Saturday. This fireworks display rivals Fourth of July shows in major cities around the U.S. And, the show gets better every year. New memories with family and friends will be created as the clear desert sky morphs into a spectacular kaleidoscope of colors. Visitors gather at Sara Park to view the spectacular display of fireworks over the Colorado River. Tel: 800-242-8278 or https://golakehavasu.com/event/western-winter-blast-pyrotechnics-show/all/
14-17 TUCSON: Tucson Gem & Mineral Show – Convention Center. This is the world's largest, oldest, and most prestigious gem and mineral show and is open to amateur and professional collectors, artisans, and the public. Special exhibits by museums and individual collectors from all over the world, with emphasis on education in the earth science field, are presented. Lectures, seminars and children's programs open to all. The show features mineral, gem, jewelry, lapidary and book dealers. (Surrounding this show are about 20 other shows held just prior to or simultaneously, in the Tucson area, see https://www.interweave.com/tucson-show-guide/ Tel: 520-322-5773 or 800-638-8350 or http://www.tgms.org/
14-17 FLAGSTAFF: Flagstaff Mountain Film Festival – Orpheum Theatre. The Flagstaff Mountain Film Festival highlights a collection of the most inspiring and thought-provoking social, environmental, and adventure-related outdoor films from around the world. In addition to the films, there are panel discussions, speakers, an extreme late-night program featuring high-energy sports films, an environmental program on our opening evening, many student film submissions, and an expanded adventure photography exhibit. As a volunteer-run effort, any profits from the event are reinvested into future festivals or donated to a local advocacy group. Situated just one hour south of the Grand Canyon, Flagstaff's high altitude desert setting makes a spectacular base for outdoor and film enthusiasts to get together and enjoy this unique environment along with high-quality film entertainment. http://www.flagstaffmountainfilms.org/ or email: info@flagstaffmountainfilms.org
14-24 SCOTTSDALE: Scottsdale Arabian Horse Show – WestWorld. Since 1955 this annual show has set the pace in the Arabian horse world. It has grown from 50 horses to nearly 2,400 of the world's most beautiful Arabians and Half-Arabians bringing top owners, trainers and breeders from around the world to compete for a chance at winning more than $570,000 in prize money. The show is also a shopper's paradise with an assortment of 300 vendors and trade booths. Tempting international cuisine courts, exciting demonstrations and unique educational seminars compete for visitors' attention with the luxurious, exotically decorated stabling areas in which the horses are housed. Tel: 480-515-1500 or http://www.scottsdaleshow.com/shows-events/scottsdale-arabian-horse-show
16-24 TUCSON: La Fiesta de los Vaqueros – Tucson Rodeo Grounds. This PRCA rodeo is America's largest, outdoor, midwinter rodeo and attracts top contestants in the sport of rodeo. It includes standard events as well as special acts, clowns, barn dances, and a parade. The parade on Thursday is the world's longest non-motorized parade, with 300 entries. Tel: 520-741-2233 or 800-964-5662 or http://www.tucsonrodeo.com/
23-3/3 SEDONA: International Film Festival & Workshop – Lovers of independent films will celebrate the best in cinematic art, amid unparalleled scenic beauty. For 25 years, the festival has honored filmmakers motivated by a passion for their art, not box office revenues. There are world premieres, gala parties, and stimulating conversation. Activities include more than 160 of the best films, a "Cast Party", awards lunch and small gatherings which give film lovers a chance to talk with others who share their passion. Tel: 928-282-1177 or https://sedonafilmfestival.com/
MARCH 2019
2-3 PHOENIX: Heard Museum Guild Annual Indian Fair & Market – Experience the 60th anniversary of one of the Southwest's largest and most prestigious events. The Indian Fair features more than 600 top American Indian artists and attracts more than 10,000 guests. Visitors get firsthand access to artists and can view and purchase handmade, authentic work by the best sculptors, painters, jewelers, potters, bead workers, weavers, katsina doll carvers and basket artists. Fair weekend also includes music by recording artists, cultural dance performances, art demonstration and chefs demonstrating culinary uses of native ingredients. Adult general admission is $20 and includes the festival and museum admission. 602-252-8840 or https://heard.org/fair/
29-31 TEMPE: Annual Tempe Spring Festival of the Arts – Mill Avenue. The Tempe Festival of the Arts consistently ranks among the Top 20 art festivals in the nation. More than 350 artist booths fill the Mill Avenue District, presenting unique hand-made artwork that offers visitors a distinctive shopping experience. Continuous entertainment on five stages, an Arizona Wine Festival & a special area for children are also offered. Free, 10 am – 6 pm. 480-921-2300 or https://www.tempefestivalofthearts.com
30-4/3 TEMPE: Bell Lexus Copperstate 1000 – Tempe Diablo Stadium. More than 80 of the finest vintage motor cars drive 1000 miles of popular Arizona terrain over four days. The event celebrates the automotive cultural legacy by featuring some of the finest working examples of vintage, sports, racing, classic and grand touring automobiles manufactured before the 1974 model year. It is a fundraiser for the Phoenix Art Museum, 602-307-2060 or https://www.mensartscouncil.com/cs/
8-10 CHANDLER: Ostrich Festival – With a nod to Chandler's history, this festival dedicated to ostriches includes ostrich races, carnival, arts and crafts, marketplace, international food, national and regional entertainment, interactive kid's area, and a parade. Tel: 480-588-8497 or https://ostrichfestival.com/ or info@ostrichfestival.com
ON TWO-YEAR HIATUS MESA: Jesus the Christ Easter Pageant – Mesa Arizona Temple Grounds. The world's largest Easter pageant presents a drama, dance and musical story about the birth, life, death and resurrection of Jesus Christ. English and Spanish performances are given, check dates. Tel: 480-964-7164 or http://easterpageant.org/ **Returns in 2021
APRIL 2019
13-14 SCOTTSDALE: Culinary Festival – A celebration of the senses with the tastes, sights, and sounds of Scottsdale. The festival features multiple districts for food exploration, such as BBQ Country, European Plaza, Sweet Street, American Square, Latin Hill, Asian Village, and the Grub Lot. Food and drinks are available from the Phoenix Metropolitan Area's most notable restaurants and chef personalities. For the 21+ crowd, there is a beer garden featuring 200 specialty beers, a wine garden by Stella Rosa and the Riboli Family of San Antonio wineries, Tito's Handmade Vodka Stardust Lounge, and the new Liquid Arizona lounge that features local wineries, spirits, and craft beer. Notable events include the Best of the Fest, Chef Demos, a family zone, and Teen Cook-Off: Challenge to the Chefs. Tel: 480-945-7193 or https://scottsdalefest.org/
24-28 LAKE HAVASU CITY: Desert Storm Poker Run and Shootout - See some of the fastest, most impressive boats to grace the waves. A world-class collection of the most prestigious performance boats from across the nation hit speeds of more than 160 MPH. The air will be buzzing with the racers' helicopter teams flying above the boats right above the water. The Desert Storm Shootout features racers running a two-mile course competing in 30 different classes, with more than 67 runs, and the speeds are breathtaking! The weekend kicks off with the Desert Storm Street Party on Thursday that attracts more than 10,000 people and a boat parade through the Bridgewater Channel on Friday. Tel: 602-739-4739 or https://golakehavasu.com/event/desert-storm-poker-run-and-shootout/ or https://www.stormpokerruns.com/desert-storm.html or James@StormPokerRuns.com
24-27 TUCSON: La Frontera International Mariachi Conference – Casino Del Sol Resort. With more than a quarter of a century of success as one of the most influential mariachi and baile folklórico events in the world, this conference is a permanent fixture on the Tucson cultural calendar and beckons mariachi and Baile Folklorico aficionados from around the country. It is a celebration of Folklorico and mariachi music starting with student workshops and competition and culminating in the Fiesta de Garibaldi, an all-day party in the park. For more information https://www.tucsonmariachi.org/ or contact Conference Coordinator at 520-838-3908 or via e-mail at timc@lafrontera.org
24-28 COTTONWOOD: Verde Valley Nature & Birding Festival - Dead Horse Ranch State Park. Saturday is the Family Nature Fair with special activities for the children. The event also includes field trips, guided tours, workshops & seminars, exhibits, vendors, a key-note speaker, and entertainment. Tel: 928-282-2202 or https://verderiver.org/birding-festival/
26-5/5 TUCSON: Agave Heritage Festival - Tucson is the premier destination for all things agave and this festival explores and celebrates the cultural, commercial, and culinary significance of this heritage plant over 10 days with more than twenty-five events throughout Tucson. Join the festival and take part in agave spirit tastings, seminars, art exhibits, concerts, garden tours, and world-class culinary experiences. Tel: 520-622-8848 or https://www.agaveheritagefestival.com/
MAY 2019
3-5 SELIGMAN/TOPOCK: Route 66 Fun Run - A fundraiser that helps promote and preserve the lasting remains of the historically established portion of Route 66 between Chicago and LA. The Fun Run is not a timed race, but a 140-mile pleasure cruise of classic and custom vehicles that traverse the Mother Road from Seligman, AZ to Topock/Golden Shores, AZ. Approximately 800 vehicles of all descriptions and ages take part, and there are events and celebrations in almost every community along the way. Tel: 928-753-5001 or http://www.gokingman.com/event-66FunRun or https://www.historic66az.com/funrun.html or nikki@historic66az.com
4 PRESCOTT: Whiskey Row Marathon - This is one of the toughest Marathons in the United States. The terrain is rugged, the altitude exceeds a mile above sea level and the weather can be severe. Come join runners from all over the county in this prestigious event. In addition to the marathon, there is also a 1/2 marathon, 10K, 10K race walk, and 2-mile fun run. http://www.whiskeyrowmarathon.com/
25-26 FLAGSTAFF: Zuni Festival of Arts & Culture – Exploring Zuni Ways of Knowing – Museum of Northern Arizona. The event explores A:shiwi philosophy, emergence and migration beliefs, worldviews, values, and current-day issues on the Zuni Reservation. Fine arts, music, dances, and food serve as windows into the ancient and vibrant Zuni culture. More than 50 award-winning and emerging artists will present their work. Demonstrators will create artwork and talk with visitors about materials and designs they use. https://musnaz.org/heritage/
JUNE 2019
14-15 TSAILE: Sheep is Life Celebration – The Celebration is hosted by Navajo sheepherders and weavers to honor the central role of sheep and fiber arts in the spirituality, philosophy, and daily life of cultures throughout the world. Everyone is invited to participate. Bring tools, spindles, fibers, and creativity to share. Additional activities include workshops, classes, hands-on activities and presentations, sheep and wool shows, sales of sheep, wool, fiber, weaving materials and arts, shepherd training workshops, a Navajo-Churro sheep exchange, contemporary fiber arts sale, and a juried Navajo Rug show and sale.
Contact: cell 505-406-7428 or www.navajolifeway.org or info@navajolifeway.org
JULY 2019
1-7 PRESCOTT: Annual Prescott Frontier Days®, Inc. World's Oldest Rodeo® - Prescott explodes with old western hospitality and charm during Frontier Days week! Enjoy "Everybody's Hometown" with a rich history and cowboy culture many have come to love. Rodeo festivities include eight thrilling rodeo performances, Arizona's largest rodeo parade, kiddie parade, arts & crafts show, rodeo & street dances and Fourth of July celebration. Tel: 928-445-3103 or 866-407-6336 or http://www.worldsoldestrodeo.com/ or email: info@WorldsOldestRodeo.com
4 PHOENIX: Fabulous Phoenix Fourth – Steele Indian School Park. This patriotic festival features the largest aerial fireworks display in the Southwest with two stages of entertainment by international recording artists, venders offering festival-style food, hands-on activities, interactive exhibits, a classic car display, and a Kid's World with activities, carnival rides, and inflatables. The free and non-alcoholic family event annually attracts more than 100,000 participants. Tel: 602-534-3378 (FEST) or https://www.phoenix.gov/parks/special-events/fabphx4
6-7 FLAGSTAFF: Hopi Festival of Arts and Cultural – The Museum of Northern Arizona's Heritage Program is dedicated to honoring the cultural diversity of the magnificent Colorado Plateau. Meet Native artists, performers, ethnobotanists, and cultural interpreters to explore the rich heritage of northern Arizona and the Four Corners region through stories, dances, and songs. Events appeal to everyone--families, children, connoisseurs, and collectors of fine Native American and Hispanic art. The oldest Hopi show in the world and a tradition since the 1930s, this festival celebrates the rich artistic culture and traditions from the Hopi mesas of northeastern Arizona. Enjoy the renowned Hopi handmade arts of katsina doll carving, pottery, painting, and silver overlay jewelry against a backdrop of storytelling, music, dancing, and steaming piki. Learn about the Hopi values of humility, cooperation, respect, balance, and earth stewardship. Tel: 928-774-5213 or https://musnaz.org/heritage/
13-14 PRESCOTT: Prescott Indian Art Market – Sharlot Hall Museum. For more than two decades, the Prescott Indian Art Market has presented some of the finest Native American art in the Southwest. With only 100 booths available on the four-acre campus it means the desire to showcase Native American art is extremely high among the Indian artists, and consumers know they'll be seeing the best-of-the-best at the juried show. Comfortably warm temperatures and a steady stream of art enthusiasts enjoy viewing (and buying) exquisite wood and stone carvings, distinctive ceramics… sculptures in stone, leather, and ceramic… paintings in acrylics, oil, watercolor… hand-woven baskets, blankets and clothing… distinctive jewelry and much more. Juried artists present traditional and contemporary artwork. Tel: 928-445-3122 or https://www.sharlot.org/event/prescott-indian-art-market/ or email: PIAM@sharlot.org
27 ELGIN: HarvestFest - Sonoita Vineyards. HarvestFest commemorates an upcoming bountiful harvest from the vineyard. One of the biggest attractions of the day is the grape stomping. Festival guests are invited to jump into a barrel of grapes for creative crushing with bare feet, while a rousing round of applause from the crowd chooses the grape-stomping champion. Other events include wine tastings, pairings, and a horse-drawn vineyard tour. Tel: 520-455-5893 or https://www.sonoitavineyards.com/festivals/
31-8/3 SIERRA VISTA: Southwest Wings Birding & Nature Festival – Knights of Columbus Hall. Arizona's longest-running nature festival, Southwest Wings is an educational celebration of the diversity of birds, mammals, reptiles, and insects, in their unique environment; the sky islands in southern Arizona. Serious birders and casual observers come together for field trips, displays, lectures, bat stalks, owl prowls, displays, arts & crafts. Tel: 520-678-8237 or http://www.swwings.org/
AUGUST 2019
3-4 FLAGSTAFF: Navajo Festival of Arts and Culture - Museum of Northern Arizona. An authentic presentation of the Navajo "Beauty Way" philosophy of living in harmony is offered by more than 80 Navajo artists, storytellers, and cultural interpreters from many clans. Witness multiple generations of rug weavers working on traditional upright looms throughout the Museum. Enjoy hoop and traditional dancing, a retrospective fashion show, and ancient and modern Native music by multiple artists. Artists demonstrate jewelry, painting, beading, and pottery techniques. Tel: 928-774-5213 or https://musnaz.org/heritage/
8-10 PRESCOTT: Arizona Cowboy Poets Gathering - Yavapai College Performance Hall. From all over the West, the best in authentic cowboy poetry and music is offered with the finest group of reciters and singers in both traditional and contemporary cowboy poetry. If you have ever wondered what it takes to be a cowboy, then come hear the stories about the colorful culture and strong heritage that celebrate the American Cowboy. The daytime sessions are free; evening shows collect an admission. Tel: 928-713-6323 or https://azcowboypoets.org/
16-17 PAYSON: World's Oldest Continuous Rodeo – August Doin's Rodeo - For more than 135 years, Payson, Arizona has been celebrating the history and tradition of Pro-Rodeo. It is still held the third weekend in August and according to the PRCA, which sanctions the event it is considered the country's Best Small Rodeo. Experience the exhilaration of rodeo, the sport of the Old West! Some of the world's greatest professional cowboys and cowgirls compete for cash and prizes totaling in excess of more than $50,000 in prize money. Fearless bull riders, burly steer wrestlers, gorgeous barrel racers, soaring bronc riders, specialty acts, and colorful clowns keep you entertained and shouting for more. There are four performances and the long weekend includes an old-fashioned parade and incorporates several days of "Wild West" events. Tel: 928-474-4515 or https://www.paysonrimcountry.com/oldest-continuous-rodeo or http://paysonprorodeo.com
SEPTEMBER 2019
TBA WINDOW ROCK: Navajo Nation Fair - A camera will be number one on your list to capture all the color and excitement. The Navajo Nation Fair is similar to a County Fair in that it has a rodeo, a parade, concerts, dances, exhibits, competitions, amusement rides… all the elements that go into having a fair. On paper, it would appear to be the same thing. But once you get there, you'll discover that's where the similarity ends. This is a county fair, Indian style!! As the largest Native America Fair and Rodeo in the country, with over 70 years running, the Navajo Nation Fair in Window Rock is the fair of choice for visitors. Opportunities abound for cultural experiences with the Contest Pow-Wow, the Fry Bread Contest, Traditional Song & Dance and the Saturday favorite, the Night Performance: dances performed in the arena by various Indian tribes. Pageantry has its own flair with the Miss Navajo competition. Navajo Arts & Crafts, known for their beauty and quality, are abundant at fair time. This event provides a safe environment for visitors to be around thousands of Native Americans, from everyday non-stereotypical people attending a fair to those who are dressed in magnificent regalia participating in an activity they love. Tel: 928-871-6478 or https://www.facebook.com/NavajoNationFair/
4-6 WILLCOX: Rex Allen Days - The annual celebration honors the late Rex Allen, Willcox's own silver screen cowboy. Activities include a parade, a professional rodeo, cowboy dances, and a county music concert. There will also be wild horse races, shooting demonstrations, bull riding event, a gun show, Cowboy Music and Poetry Festival, comedy shows, tractor pulls, gunfights and showings of Rex Allen movies as well as a car show, turtle races, carnival and softball tournaments. Tel: 520-384-2272 or 520-384-4583 or http://www.rexallendays.org/
20-21 SAFFORD: SalsaFest – Safford Town Square. Arizona's Salsa Trail encompasses terrific food in the towns and communities within a 40-mile radius of Safford. The members of the Salsa Trail, which include a dozen Mexican restaurants, celebrate each September with salsa-making competitions for both professional and amateur chefs, a marketplace, salsa music, dance performances, food demonstrations, chili roasting, a kids' corner with piñatas and Chihuahua races, dog costume contest, beer garden, and car show. There is also a Hot Air Balloon Glow on Friday evening, and they fly overhead on Saturday morning. Tel: 928-428-2511 or https://www.salsatrail.com/ or info@graham-chamber.com
27-28 WINSLOW: Standin' on the Corner of Winslow Arizona – Downtown Winslow on Campbell and 2nd Street behind the Hubble Building and Chamber of Commerce. Each year, the annual Standin' On the Corner Park festival draws thousands of visitors to Winslow. The celebration includes live bands, dancing, arts and crafts, food vendors, a live auction, a beer garden, children's play area, and a fire truck tug. https://winslowarizona.org/events/2018-09/
OCTOBER 2019
5-13 LAKE HAVASU CITY: IJSBA World Finals - Crazy Horse Resort Aqua Stadium. Competitors from around the world churn the waters to win a share of more than $25,000 in prizes at the world's largest and most prestigious personal watercraft event. The week-long World Finals event features Closed Course Racing, Slalom Racing and Freestyle Competition. During the Pro Freestyle Expo, individual athletes compete with their most dynamic and creative stunts and tricks. The World Finals also features the world's only tradeshow for personal watercrafts, accessories, and lifestyle products and is where the latest models are unveiled. The event is invitation-only for athletes, but all are welcome to watch from either side of the Bridgewater Channel. There are plenty of food vendors and beer stands during the event. Tel: 928-453-3444 or or https://golakehavasu.com/event/ijsba-worldfinals/ or https://www.ijsba.com/world-finals/ or http://www.mohavedevelopment.org/events/2019/10/05/default/internatinal-jettribe-world-finals/
TBA PHOENIX: Arizona State Fair - The Arizona State Fair is one of the top 10 state fairs in the country and is more than 130 years old. Each year, more than a million guests come to experience a great combination of the traditional and the extraordinary at the Fair. With family entertainment, animals, food, rides, top-notch concerts, exhibits, motorized events, a rodeo and more. Open Wednesdays through Sundays. Tel: 602-252-6771 or https://azstatefair.com/
5-6 PRESCOTT: Folk Music Festival - Sharlot Hall Museum. As Arizona's longest-running folk music festival, this event showcases the best of Arizona acoustic music with more than 150 performers, including fiddlers, banjo players, guitarists, singers, and songwriters. Hear dulcimers and harmonicas and listen to storytellers. Celebrate Arizona's musical heritage with songs of the miners, railroad men, cowboys, vaqueros, pioneers, and native people, whose cultures and traditions influenced territorial life. Tel: 928-445-3122 or https://www.sharlot.org/festival/folk-music-festival/
TBA SCOTTSDALE: Arizona Taco Festival – Salt River Fields, 30+ professional and amateur taco teams compete in chicken, beef, pork and fish, a sidecart throwdown in salsa, guacamole, anything goes taco and best booth design. The day also includes a hot chili pepper eating contest, a kid's zone, cooking demos, live music, Boutique Tequila Expo and a Margarita Challenge. It is $10 to enter and $2 per taco sample. 11 a.m. – 7 p.m. each day. http://aztacofestival.com
18-20 TOMBSTONE: Helldorado Days - What started out as the town's 50th-anniversary celebration in l929, has turned into its oldest tradition. Activities include reenactments, a parade on Sunday, fashion shows, a carnival, live music, beard contest and street entertainment, Tel: 520-457-3291 web: http://tombstonehelldoradodays.com/ or https://www.tombstonechamber.com/event/helldorado-tombstone-az/
19 BISBEE: Bisbee 1000 Stair Climb - This annual event can be a challenging competitive run or a leisurely explorative walk of Bisbee's more than 1000 stairs. Win prizes and help restore the historic steps while improving your own health. Annual Bisbee 1000 Ironman Ice Competition, "the event within the event", involves carrying blocks of ice with a pair of antique tongs up 155 stairs, across a trail and down a winding road to an exhilarating finish—fun to participate in or just to watch! Tel: 520-432-1585 or http://www.bisbee1000.com/
26-27 FLAGSTAFF: Celebraciónes de la Gente - The Museum of Northern Arizona comes to life for Dia de los Muertos or Day of the Dead. Transforming grief into a celebration, this ritual pays homage to the lives of lost loved ones by inviting them back to enjoy their favorite music and foods and to honor their contributions in life. Flagstaff families bring ofrendas (altars), from their homes to share in a courtyard exhibit. The festival includes performances such as Aztec fire dancing, storytelling, mariachis, Ballet Folklorico, and modern Latin music. Artists display exhibits of tinwork, straw mosaics, papél picado (paper art), and filigree jewelry. www.musnaz.org
NOVEMBER 2019
8-10 TUCSON: All Soul's Procession - A two-mile, human-powered procession that ends in the finalizing action of burning a large urn filled with the hopes, offerings and wishes for those who have passed. The event also includes installation art, altars, performers and creative artists. The All Souls Procession, and now the entire All Souls Weekend, is a celebration and mourning of the lives of our loved ones who have passed. Tel: 520-770-1553 or 520-634-5004 or http://www.allsoulsprocession.org or https://www.facebook.com/AllSoulsProcessionWeekend/
8-10 WICKENBURG: Bluegrass Festival & Fiddle Championship - Bowman Rodeo Grounds. Held the second full weekend in November for more than 25 years, this three-day event has featured the Four Corners championship contests for fiddle, flat-pick guitar, banjo and mandolin. It draws thousands of spectators from throughout the southwest. Tel: 928-684-5479 or www.wickenburgchamber.com
8-1/4 WILLIAMS: Polar Express – The classic children's book by Chris Van Allsburg, The Polar Express, comes to life when the Grand Canyon Railway train departs the Williams Depot for a journey through the dark and quiet wilderness for a special visit to the "North Pole." Enjoy hot chocolate and cookies while listening to the magical story. Watch the joy on the children's faces when the train arrives at the North Pole, where Santa Claus and his reindeer are waiting! Santa will board The Polar Express and hand each child their own special gift. Tel: 800-843-8724 or www.thetrain.com
24 TEMPE: Ford Ironman Arizona – Tempe Beach Park, features a 2.4-mile swim, a 112-mile bike and a complete marathon 26.2 miles in succession. www.ironmanarizona.com
On hold MESA: Mesa Arizona Temple Holiday Light Display - Get into the Christmas spirit by gazing at 750,000 twinkling lights set in the picturesque desert landscape of citrus trees, cacti, and palm trees. The lights display 50 life-size figures, including a Nativity scene, the Three Wise Men and their camels, and others. Special musical performances are offered each evening at 7 p.m. Free. Tel: 480-833-1211 or www.mesachristmaslights.com (on hold until construction is finished)
TBA FLORENCE: Florence Junior Parada – The Florence Junior Parada is the oldest sanctioned youth rodeo in the United States. It pits the youngest of riders against the oldest of venues to showcase their youthful cowboy skills. The Saturday morning parade evokes times past with stagecoaches, mounted posses and young and old on horseback, along with vintage vehicles, clowns, dancers and others. Catch the "Cowboy Spirit" in the "Cowboy Cradle of the Great Southwest." While in town, visit the historic district, museums, and many historic adobes of the 19th Century. Tel: 520-868-4382 or http://www.florencejrparadarodeo.com/
DECEMBER 2019
6-8 TEMPE: Fall Festival of the Arts - Downtown on Mill Avenue. One of Arizona's largest and oldest arts and fine crafts festivals, it has been happening every December in downtown Tempe for the last 50 years. More than 350 national artists and craftspeople come from across the country to sell their artwork. Food vendors, musical entertainers and people watching, fill the streets. Tel: 480-967-4877 or www.tempefestivalofthearts.com
14-15 PHOENIX: Pueblo Grande Indian Market - Pueblo Grande Museum and Archaeological Park Two hundred Native American artisans with handmade art ranging from jewelry, baskets, pottery, paintings, Kachina dolls, fetish carvings, weavings and sculptures will show their wares. Traditional and contemporary Native American music and performances are offered. While there, tour the centuries-old platform mound, ballcourt and replica homes of the ancient Hohokam culture and taste some traditional Native American foods. $5, under 12 free. 602-495-0901 or www.pgindianmarket.com
TEMPE: Cheez-It Bowl – Chase Field. Hosting football teams from tba. $10-50, 8:15 pm. 480-350-0911 or http://www.fiestabowl.org/
GLENDALE: Fiesta Bowl – Prior to the football game are a variety of events including the Fiesta Bowl Parade, gathering approximately one-million spectators and participants. Whether it be golf, community events, parades, educational programs, formal galas or football games, families and friends have the opportunity to celebrate college football and all it entails. www.fiestabowl.org
We have several unique New Year's Eve count-downs:
31 FLAGSTAFF: New Year's Eve Pinecone Drop – Weatherford Hotel. A Flagstaff tradition, big countdown at 10 pm & 12 am, giant, LED-Lighted Pine Cone is lowered from the top of the Historic Weatherford Hotel. Free. http://www.flagstaffarizona.org
31 PRESCOTT: Boot Drop – The Palace Restaurant & Saloon. A 6-foot illuminated cowboy boot will be lowered down a 40-foot flagpole to ring in the New Year, once at 10 pm for early birds and once at midnight for traditionalists, a DJ will spin tunes, food vendors. 8 pm – 1 am. 928-776-0234 or http://www.bootdrop.net/
31 SHOW LOW: Deuce of Clubs Drop – Festival Marketplace. Entertainment, music and food and countdown to midnight, drop of a giant electrified Deuce of Clubs from a crane, giant fireworks show follows. 928-532-4140
31 YUMA: Iceberg Lettuce Drop – Yuma's Historic Downtown. On December 31, 2018, an iceberg will be dropped in Yuma, Arizona's Historic Downtown as part of an inaugural New Year's Eve celebration. The giant fabricated head of iceberg lettuce that is illuminated from within will drop at 10:00 p.m. on New Year's Eve to coincide with New York City's Ball Drop, and again at midnight to officially ring in the new year in Yuma. Iceberg lettuce was picked as the symbol of the event due to the importance of and the community's close ties to the local agriculture industry. The Yuma area, in fact, produces about 90% of the nation's winter leafy vegetables. The fabricated head of iceberg lettuce to be dropped will be 8' by 8' and lit from the inside. A large countdown clock will add to the excitement during the festivities. Steven Hennig, 928-376-0100 hennigstevend@centurylink.net
This calendar has been produced to assist you in making travel arrangements. It is for information only and does not constitute a recommendation. Dates for events were correct at time of publication. Since dates are occasionally changed, please confirm them in advance.